Community Corporation
of Santa Monica
Non-profit developer and manager of affordable housing uses WegoWise to track savings of 35% on electricity and 26% on water, prioritize and measure retrofit projects, and secure funding for future sustainability work.
Community Corporation of Santa Monica (CCSM) is a non-profit organization committed to developing and managing affordable housing in Santa Monica, CA, a beach suburb of Los Angeles. Since 1982, CCSM's mission has been to provide housing to low-income working families and individuals. CCSM manages and has developed almost 100 projects with nearly 1700 units in the city of Santa Monica. Utilities are a significant operating cost for the organization, totaling over $1.1 million annually, including water, power, gas, sewer, trash and utility management.
CCSM develops and manages properties with sustainability in mind. In addition to new construction, CCSM purchases and rehabilitates apartment buildings that might otherwise be demolished, thereby extending the buildings' useful life by another 40-50 years and preserving rent-controlled housing for the long term. In order to make these projects viable, CCSM has found that replacing obsolete systems with green technologies and sustainable materials extends the building's life and enhances its financial health. Their projects range from major building system overhauls to simple LED lightbulb replacements and faucet upgrades.
Currently, CCSM is focused on a number of water and energy conservation projects. They use WegoWise to prioritize improvements, to track the success of retrofits and upgrades, to secure funding for future work, and even to pilot data-driven programs for affordable housing owners and managers. "Before we started using WegoWise, the only time we'd systematically examine energy and water use across the portfolio was as part of our annual budgeting process," says John Mimms, the Project Manager who oversees all of CCSM's energy efficiency work. "Now, we're able to integrate utility usage and cost data into the full planning process and track ongoing results, which has allowed us to secure funding for new projects and propose the retrofits we know will be most effective."
[With WegoWise] we're able to integrate utility usage and cost data into the full planning process and track ongoing results, which has allowed us to secure funding for new projects and propose the retrofits we know will be most effective.

- John Mimms, Project Manager, CCSM
The Goals: Plan, Execute, and Track the Sustainability Projects that Bring the Most Savings
CCSM partners with WegoWise to:
Identify the least efficient, most costly buildings in their portfolio, and advocate for accurate funding to perform retrofits
Forecast utility expenses and potential ROI for future retrofit projects by measuring past performance of similar upgrades
Reduce utility cost, by lowering operating expenses and freeing up cash for other meaningful projects
Identifying Retrofit Priorities in the CCSM Portfolio
A key tool in identifying retrofit priorities is WegoWise's Performance Overview dashboard. "It's really user-friendly," Mr. Mimms stated. "It's easy to see the anomalies—for example, the one or two buildings that are really out-of-whack."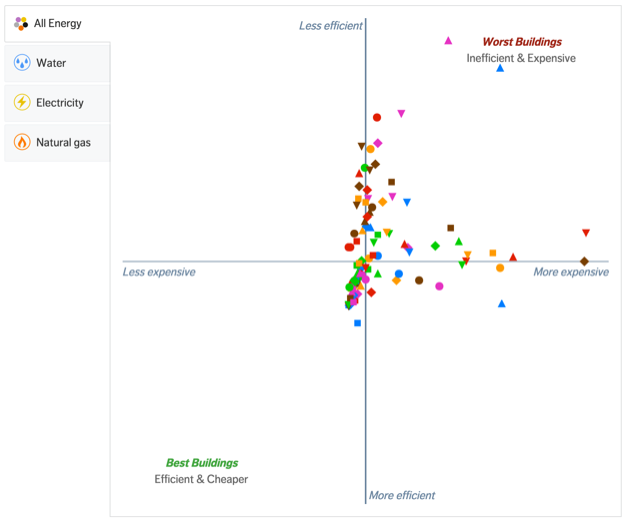 CCSM looks to the Performance Overview dashboard to highlight the properties in their 108-building portfolio that are least efficient and most expensive—the properties that offer the biggest opportunity for improvements and cost savings. From there, retrofits and operational improvements can begin!
Saving 26% on Water and 35% on Electricity, and Forecasting Future Improvements
CCSM uses WegoWise to track the performance of upgrade projects across their portfolio, and harness that data to accurately forecast how similar improvements might perform at other properties. Recently, the organization has focused on water conservation projects given the severe drought California is facing. CCSM's initiatives to rehabilitate older buildings have included water-focused projects such as landscaping upgrades to more drought-tolerant plants and drip irrigation, indoor building updates such as replacing 1.25 Gallon Per Flush (GPF) low-flow toilets with even lower 0.8 GPF ultra low-flow toilets, as well as low-flow faucet aerators.
Given the high priority of water conservation, CCSM tracked a major toilet retrofit in WegoWise, specifically making use of the Building Upgrade reporting feature to track the project's success. After retrofitting 56 toilets, WegoWise's building upgrade reports quantified a 26% reduction in costs at a key property in the year following the retrofit, and a 25% reduction in water use.
Another key project CCSM tracked using WegoWise was electricity- focused: installing LED lighting in a subterranean parking garage in a building where high-intensity discharge lighting had previously been used. Thus far, the project has generated 35% savings in electricity.
Pioneering Data-Driven Energy Efficiency Programs in California
Identifying inefficient buildings and performing retrofit projects like these is only one way CCSM has made use of key insights garnered from WegoWise. Additionally, the organization is piloting an on-bill payment program in tandem with the California Housing Partnership Corporation (CHPC), and the Southern California Gas Company.
The California Master-Metered Multifamily Finance Pilot Project (MMMFP) is a program for owners and managers of low-income, multifamily housing that helps finance energy efficiency building improvements. The program utilizes performance-based, whole-building energy audits with modeling of energy savings to create a financing source to implement and pay for efficiency retrofits that have traditionally only been possible for larger commercial landlords. WegoWise is partnering with CCSM and CHPC to perform the third-party data analysis comparing actual energy savings to those forecasted in the energy modeling.
Previously, these programs haven't used actual data to measure and verify the most cost-effective improvements multifamily housing owners and managers can make. Using Measurement & Verification (M&V) Reports and real cost and usage data from the utility information in CCSM's WegoWise database, WegoWise is providing validation for ongoing retrofit projects. This verification helps the MMMFP program to prove to other affordable housing owners and managers statewide the most effective upgrades from real world, actual data. The WegoWise database is playing a central role in verifying that the retrofits are creating the savings forecasted in the energy model, providing an important check to ensure the MMMFP protects the interests of financing groups as well as building owners.
Premium Reports Help Generate Additional Funding for Community Improvements
Avid users of WegoPremium, the CCSM team distributes their Premium reports widely across the organization, and to their consultant teams, to track building upgrade successes and year-over-year performance. "Premium reports allow us to easily filter through all of our building upgrade information," Mr. Mimms observed, "and hammer home the key points when we share them at a higher level in the organization." For CCSM, this means it's easier to make budgeting decisions, and quicker to prioritize which projects make it into upcoming plans.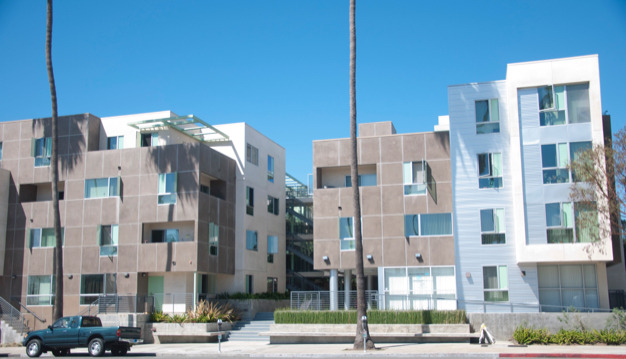 Key Results
In addition to saving 26% in water costs from retrofits and 35% in electric use from lighting upgrades, CCSM continues to harness the power of WegoPro and Premium reporting to:
Quickly and easily identify outlier buildings in the CCSM portfolio in order to prioritize retrofits
Track building upgrades with Measurement & Verification reports across multiple buildings to accurately measure the success of sustainability initiatives and replicate that success in future upgrades
Communicate key results across multiple teams and levels within the organization
Create opportunities for affordable housing owners and managers to select the most cost-effective efficiency retrofits based on results from similar buildings through MMMFP