WegoPremium
Utility management made simple with advanced analytics and reporting
WegoPremium harnesses the power of WegoWise's automated utility tracking and benchmarking and kicks things up a notch, empowering you to make better decisions with clear, actionable information delivered right to your inbox.
Sit back and relax: we've got this.
With WegoPremium, we constantly monitor your utility data, run weather-adjusted models, and conduct building-level analysis. Then, we send the key information you need directly to you and your team. Your dedicated energy analyst is there to help along the way!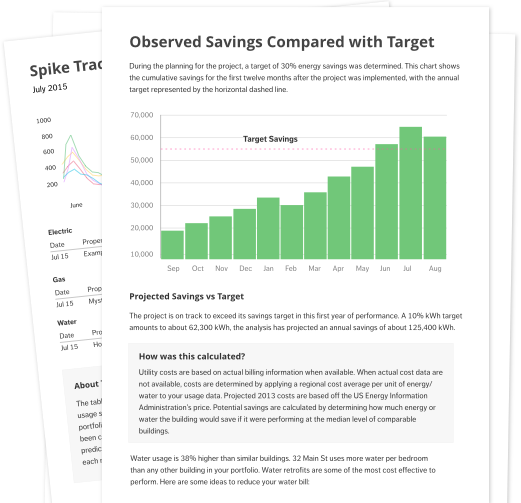 What's included?
4 key reports that showcase the most important, actionable insights gleaned from your utility data. They answer questions like:
How are each of my buildings performing, and which ones should I focus on improving?
How much am I spending on utilities, and how is that spend changing from year to year?
Is my energy and water usage as expected, and if not, which meters are the culprits?
Are my building upgrade projects saving as much energy and water as promised? How much?
Access to the easy-to-use, comprehensive capabilities of WegoWise's Pro platform, including: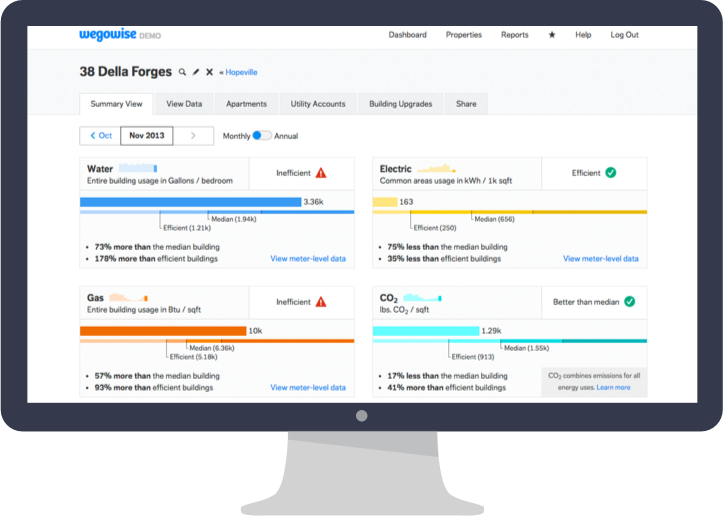 Benchmarking your building performance against our database of 40,000+ buildings in the US and Canada
Fast data exports for further analysis
Seamless integration with the EPA's Portfolio Manager to generate ENERGY STAR scores
Automatic importing of all of your energy and water data—no paper bills to keep track of or messy spreadsheets!
Energy and water tracking by month (or year) for each unit, building and property in your portfolio
Custom reporting tools
Dedicated energy analyst, available to highlight opportunities and guide decision-making.
Regular checks to ensure all of your utility accounts are up-to-date
Updates when we notice potential performance issues with the buildings in your portfolio—your energy analyst will make sure you know about it
In-depth training on how to make the most of WegoWise
Premium Reports
Spike Tracking Report
Flag meters where energy and water use is higher than expected. Identify the meters with problems (water leaks, equipment faults) or billing errors.
Building Opportunity Report
Evaluate energy and water for each building in the portfolio with targeted recommendations, prioritized by size of savings opportunity. Use budgets efficiently by focusing on the biggest potential ROI.
Property Performance Report
Summarize energy and water costs for each property, and highlight variances.
Measurement & Verification
 (M&V) Report
Analysis for specific upgrade projects. Our weather-adjusted regression models reveal exactly how much money projects are saving.
Who uses WegoPremium?
Asset Managers, Building Maintenance, Development Officers, Facilities Directors, Finance Executives, Operations Executives, Regional Managers, Property Managers, Project Managers, Portfolio Managers, and more.
What are you waiting for?
Request a quote today to start making the most of your utility data.