Homeowner's Rehab, Inc.
With help from WegoWise, over an 8 year period HRI reduced utility consumption 22%, yielding $350,000 in annual savings.
HRI is a leading multifamily housing developer in Cambridge, MA that has developed more than 2,200 housing units with a focus on affordable and low-income apartments. HRI pays for heat and water utilities across its 73 buildings at a cost of approximately $1.7 million annually.
Showing our management company results really makes them think more about opportunities we may have at other buildings.

- Beverly Craig, Energy Efficiency Specialist at HRI
The Goals: Greening Up and Saving Money
HRI decided to partner with WegoWise primarily to:
Identify buildings that would benefit most from heating, lighting and water retrofits
Cut carbon emissions and "green up" its portfolio
Access utility incentive funding for upgrades
Reduce utility costs
Simple Fixes, Big Results
By tracking energy and water consumption across its portfolio, HRI was able to target inefficient outliers, find otherwise undetectable water leaks, and identify malfunctioning equipment post-installation. The HRI team then had the data to communicate priorities to its property management company, illustrate trends and savings opportunities, report improvements to investors, and apply for retrofit funding.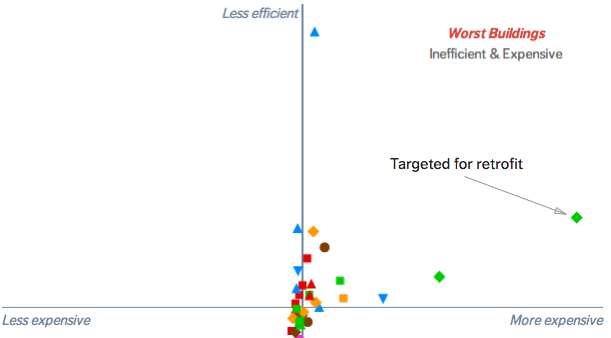 Using WegoWise's portfolio comparison tool, Homeowners Rehab, Inc. identified the buildings in their Auburn Court development that were consuming energy at a disproportionate rate. HRI took the energy intensity scores for these buildings to state utility-sponsored retrofit programs and qualified for $57,000 in lighting retrofits. These retrofits included:
Replacing 150 old, double-lamp fixtures in stairwells with energy efficient, motion-controlled fixtures
Replacing 16 wall sconces in hallways
Installing seven motion sensor fixtures in common areas
Installing four exterior LED fixtures to light a walkway
Upgrading an elevator lighting fixture
The lighting retrofit yielded an average savings of about 20 percent across eight buildings in the development. This saved 43,000 kilowatt hours of electricity and $6,800 per year in energy costs, with a return on investment of 250 percent.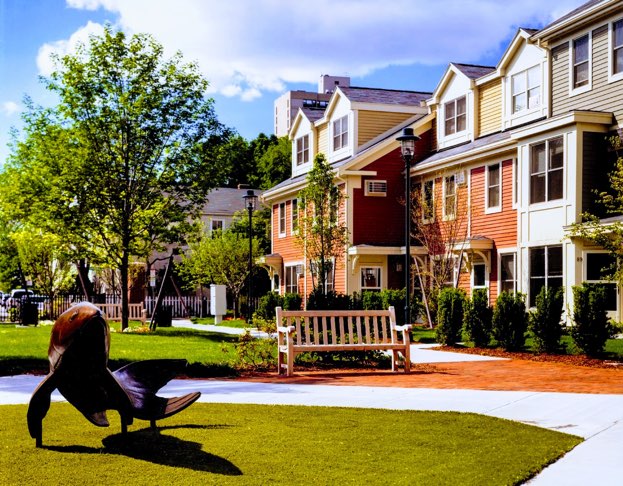 Diagnose Problem Buildings
After replacing inefficient boilers with new condensing units, HRI staff compared the post-upgrade energy use of the buildings to benchmarks from WegoWise's database. One new-construction building in particular was not performing nearly as well as expected. Engineers re-examined the boiler and found that it was not condensing properly. After modifying gas pressure, the outlying building began performing on par with expectations.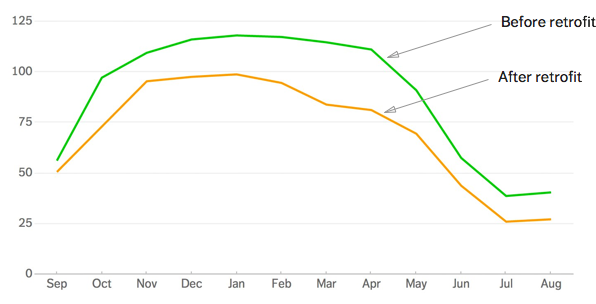 HRI's efficiency successes have gone well beyond lighting. After using WegoWise to identify the biggest savings opportunities, HRI worked with energy consultants to implement targeted heating and water retrofits, and installed solar and cogeneration systems. WegoWise served as the data-driven tracking and measurement tool for all of these projects.
For example, HRI replaced inefficient boilers with new units in a variety of buildings, then used WegoWise to monitor the results. Over time, the data from WegoWise revealed unexpected spikes in gas usage, due to occasional failure of equipment such as thermostatic radiator valves and variable speed drives. The ongoing monitoring provided by WegoWise was invaluable in helping HRI quickly flag and remedy these issues.
The Bottom Line
Benchmarking their buildings was instrumental in HRI qualifying for $850,000 in utility-sponsored retrofit programs that culminated in $350,000 in annual savings. HRI continues to use WegoWise to effectively:
HRI continues to use WegoWise to effectively:
Identify problem buildings, spikes in usage, and inefficiencies which translate into new opportunities for savings
Track post-retrofit utility data to verify cost savings and ensure proper performance
Communicate with management and other stakeholders using WegoWise reports, charts and other visuals
Showcase savings of completed retrofit projects and more easily secure financing for future projects