Peabody Properties, Inc.
WegoWise has helped Peabody Properties, Inc. to set a precedent for targeted energy improvements in affordable housing.
Peabody Properties, Inc. (PPI) is a full-service real estate firm specializing in multifamily property management, construction management, development, and supportive and assisted living services.
By capitalizing on state and utility incentives directed at affordable housing, (PPI) has received $9.9 million in funding for energy conservation measures, and is saving over $2M annually in reduced utility costs.
With more than 70 properties undergoing efficiency work over the last five years and more on the way, PPI integrated WegoWise into its project management practices as a tool to organize data, measure performance, and share information with funding partners. WegoWise has made data collection and analysis easier, less time-intensive, and more meaningful to staff.

Measuring Performance
Early in its partnership with the Massachusetts-based LEAN Low-Income Multifamily Retrofit Initiative, PPI staff recognized that water retrofits in old, inefficient buildings presented a massive savings opportunity. By tracking the performance of a few pilot projects, PPI saw these savings immediately.
Upon completion of each PPI project undertaken, the date and scope of the work is recorded in the building upgrade section of WegoWise to track performance. Staff have access to project details and performance on a building-by-building basis, which simplifies monitoring the performance of installed measures. By keeping track of savings at each project, PPI gains insight into what works for its properties, and provides guidance on what projects to tackle next.
For example, at PPI's Kelly House property, an upgrade to low-flow toilets and water fixtures was performed. The data from WegoWise demonstrates this retrofit resulted in a sharp decline in usage and a 29% annual savings.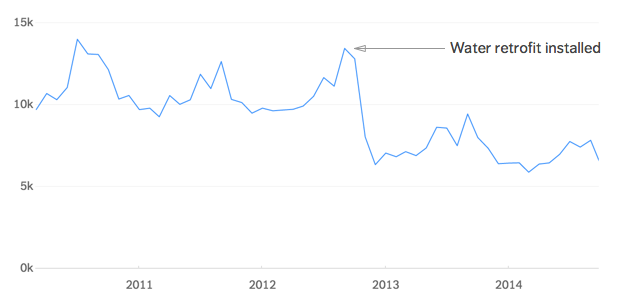 Impressed with these early successes, PPI plans to replicate this retrofit in ten more buildings with projected savings of more than $180,000 in utility bills annually. If successful, the program will be expanded to 20 additional buildings.
Making the Case
WegoWise's easily accessible data visualizations give PPI's staff the necessary tools to not only measure resulting savings, but to share those stories and secure additional funding for other projects. When approaching current and potential lending partners, PPI shares its progress through data, a universal language. Data is disseminated to seven different partners - and that data may be site-specific or representative of the entire portfolio. These organizations then use WegoWise data and reports to quickly identify candidates for additional funding and easily monitor the performance of projects.
This process has enabled PPI to secure over $9.9 million in funding for efficiency work to date, and upwards of $2 million in annual utility savings. With early successes motivating them, PPI continues searching for new projects in which to invest that will improve both the comfort of their residents and the value of their properties.
Continued Success
PPI continues to forge ahead as an efficiency leader. It has just completed a full suite of energy retrofits to Powdermill Village, one of its largest properties. This 320,000 square-foot property underwent a $3 million oil to gas conversion and building envelope improvements. One building was renovated with a high-performance building exterior which, depending on performance, is expected to be rolled out to the rest of the buildings on this site.
PPI's leadership in energy and water efficiency is a credit to its staff, lenders, and residents, and WegoWise plays a crucial role in the process. With the WegoWise suite of data management tools, Peabody Properties has set a precedent for achieving targeted efficiency improvements in affordable housing. Improvements that are informed, fact-based, and supported by ongoing, open access to data.